Are you a software developer, or someone who is planning to make an app or software? Well, then you must be aware of how rapidly our technological world proceeds. Evolution is inevitable, and you need to align your work with the current trend as well.
You may accomplish your aim by developing an app while keeping current trends in software development in mind. A software developer creates, implements, and supports the program. The first step is to evaluate its importance as well as how a software development company will be affected by technological breakthroughs shortly.
The field of software development is
continually evolving
as a result of new social needs, external forces, and developing technology. Scrutinizing the existing market trend patterns and the current need, it is possible to a large extent to predict future trends.
So let us inquire into the question and find out the upcoming trends in software development in 2023.
11 key software development trends in 2023
Below is a list of future market trends: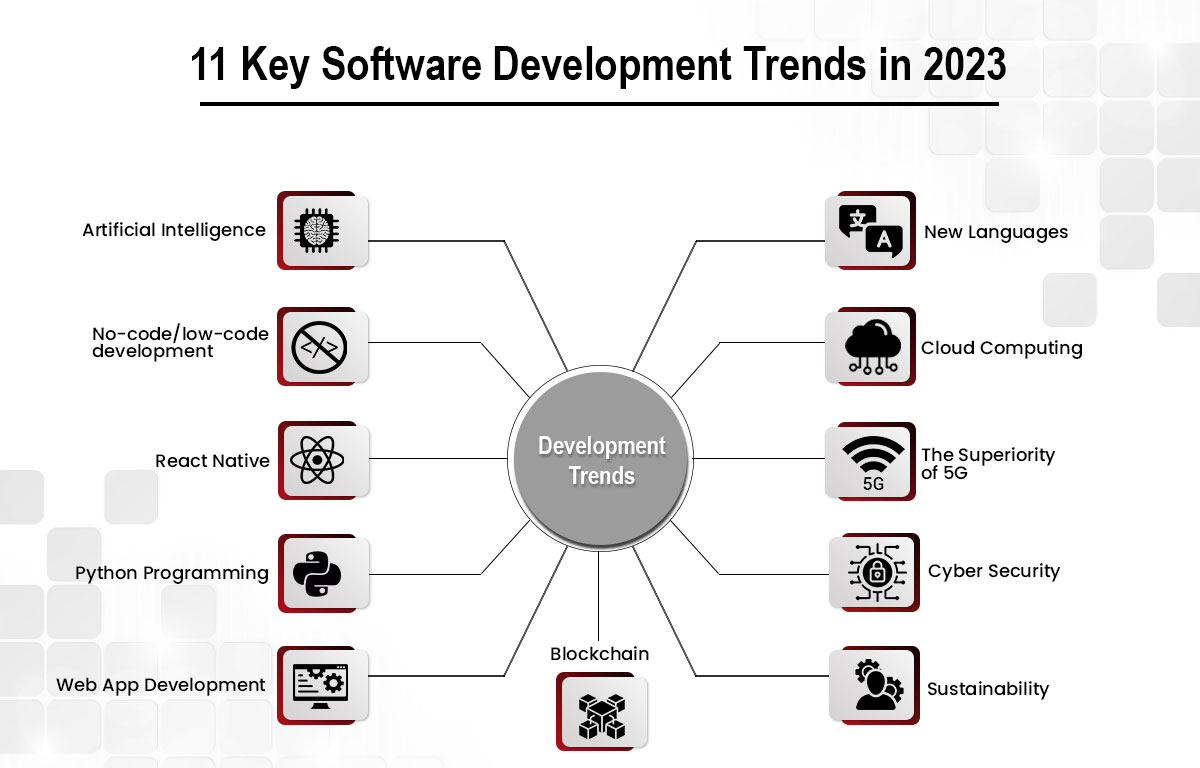 artificial intelligence
Artificial intelligence keeps booming, and many industries have started leveraging its advantages, from healthcare to finance to retail to transportation. Some aspects of AI, including deep learning, machine learning, and neural networks, are improving hastily. All these areas have noticed a massive expansion in the last five years of technological history. It is evident that they have almost replaced the manual efforts which used to be faultier than now.
From big corporates who need to evaluate the most recent data to even a
CMS development company
, all use AI. Moreover, improvements in machine learning will keep enhancing computers' and robots' capacity to carry out tasks without explicit programming. With the advent of automation, AI will inevitably see significant demand in 2023. You can also follow the for more.
no-code/low-code development
Low-code software development, though a thing of lesser importance in earlier times, has gained popularity and importance in recent years. It helps developers create apps more rapidly using flowchart designs.
As we can see from the apps produced with it, minimal code development has unquestionably enhanced the software development process and applications. As a consequence, new developers may enter the market and businesses can easily and rapidly create MVPs.
react native
Many firms choose hybrid development because it is a simple way to build apps with good performance and comprehensive functionality for several platforms utilizing a single code base. The market for hybrid development is presently dominated by React Native. Worldwide mobile developers have come to rely on this well-known framework, and its rise in popularity shows no signs of slowing down any time soon.
Supported by Meta Inc. or Facebook Due to its usage of JavaScript, React Native is simple to understand and operate. Performance-wise, React Native apps are very dependable and ensure a near-native user experience. It can even be used by people providing
Kentico CMS Development services
; react may be used with Kentico widgets.
python programming
Python is a language that may be applied to any current development project. You might use this language for business initiatives,
mobile app development
, or online development. Python differs from other universal languages in that it can conduct complex mathematical calculations, machine learning, and neural network creation.
Read Also: Unit Testing Frameworks In Python
As you can see, the language is already in terms of popularity followed by C and Java. Moreover, Python doesn't take long to learn and may be used for highly complicated projects by a software development company with higher degrees of expertise.
web app development
Though web applications rose to fame back in 2016, the world already started the development and distribution of them before that time. This system enables the users to experience something like a real-time app without downloading and installing them. People can use a single page or even multiple paged applications in this system. You just need to go to the links to experience its functionality.
Read More: An Ultimate Guide For Web Application Development In 2023
A mobile app development company evaluates the operation of mobile solutions using instant applications. The apps are uploaded to a browser to be evaluated on various devices, much like a webpage. The
web application development service
can be provided by software developers as well as mobile app developers.
new languages
Famous programming languages such as Python, Java, or C still didn't leave the minds of the developers. But other new languages, such as Rust, Go, or Swift, also have their separate and distinct position in the market. These languages also have attracted a lot of people in thought the last decade. Their syntax is cleaner, and convenient, and these things can be easily learned.
Modern languages are tailored to new technology and meet high user requirements, unlike older languages like PHP. High speed, multi-threaded operations, cross-device efficiency, and easy deployment are their main priorities.
cloud computing
During the pandemic, the majority of businesses improved their capacity to work remotely, and their IT needs significantly changed. For businesses that needed to change and adapt to the rising demand, the cloud was the ideal instrument.
Statistics and current trends reflect that the industry in the following years.
It is noticeable
that cloud spending has undergone a growth rate of more than 6%, and consequently became a 258 billion US Dollar industry. It is very much clear from these data that this is going to be a flourishing industry in the future.
the superiority of 5g
The primary cause of software development is that the technology enables businesses to fully utilize IoT ecosystems. The performance displayed by linked devices improves with increased communication reliability.
Remote medical procedures and remote industrial machinery maintenance under risky circumstances may become more widely used as a result of 5G. As a result, a lot of businesses will be able to provide new services, particularly those that utilize the real-time processing of data from various sensors.
cyber security
Cybersecurity is a crucial element of AI governance, although not being the only one. It is essential for every other tool or invention as well, especially in light of the increasingly sophisticated tactics cybercriminals are using to undermine and destroy technical systems.

Organizations will use multifaceted tactics as part of their cybersecurity plans. Companies will always need to prioritize security in their IT, and they might need to search outside of their enterprises for the necessary skill sets.
sustainability
Security in IT will always need to be a top priority for businesses, and they may need to go outside of their organizations for the appropriate skill sets. Organizations of all sizes and the software development industry will need to think more and more about sustainable methods in the face of this expanding understanding.

The sustainable approach to technology aims to improve IT services by maximizing energy and resource efficiency, promoting business sustainability through analytics, and renewable resources, and assisting customers in becoming more environmentally friendly through apps.
blockchain
Although blockchain technology has mostly been discussed about cryptocurrencies, it also has potential use by a software development company. The security of its data is guaranteed by the decentralized replication and storage of such data. Blockchain has been the center of attraction for the last year, and it will continue attracting more and more businesses in the upcoming times as well.
Related: What is Blockchain Technology?
let us sum up
To conclude, this industry seems to be one of the most sustainable ones as the technological impact is prominent in every aspect of human life. And in the future, the needs and demands will only increase. Finding out which one might be your secret blackjack can help your company stand apart from the competitors.

Do you have a great idea that holds immense opportunity and potential? Are you looking to transform that idea into a spectacular software product?
Zenesys
, a leading software development company provides cutting-edge software solutions to unlock opportunities for digital success.