Choosing the right offshore development team for software or app development is a complex decision for businesses of all sizes. Whether you are a startup or a big organization founder, you need to consider several factors before choosing offshore software developers for your project.

But what factors to consider to hire offshore software developers with the right expertise that meets your project needs, what offshore software development companies to consider, and how to hire an offshore web or mobile app development team?

This guide to hiring offshore software developers for startups answers all these questions.
What is Offshore Software Development?
Today, leveraging offshore development services is not limited to mobile or
web application development
.
Businesses hire offshore software developers for multiple services, including website maintenance, software development, training and consulting, front-end development, UI/UX design, and cloud app development.
India, and Easter Europe are the most preferred offshore destinations in the offshore development market. Countries like the USA, Australia, and New Zealand choose these locations to hire offshore developers teams, allowing them to hire developers at low wages.
Recommended Read: 11 Upcoming Trends Of Software Development For 2023
So developers from these areas keep upgrading their skills with the latest tools and technologies. Hence, the skill level of offshore developers is as high, but the cost of development is much lower.
Offshore Software Development - Pros vs Cons
The lack of skilled developers in the global market has influenced the demand for offshore software development companies worldwide. However, before you choose to hire an offshore software development company, you need to know the pros and cons of the offshore model.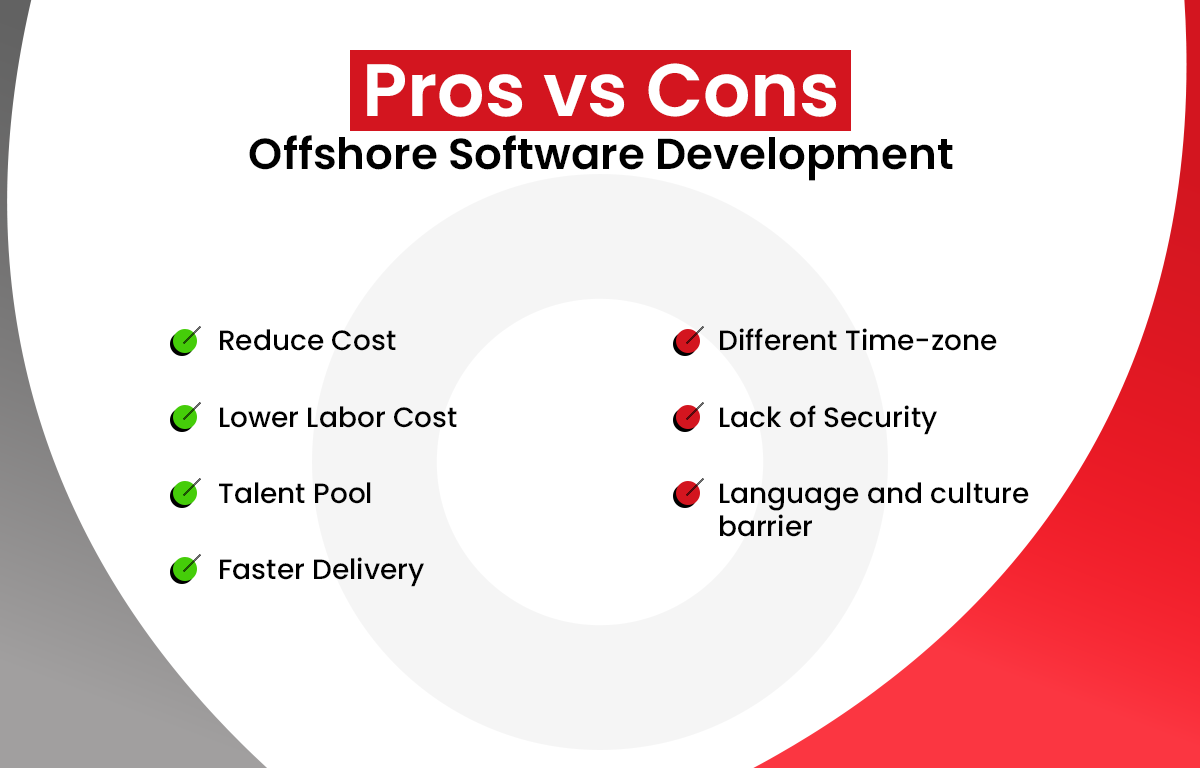 Pros of Offshore Software Development
Businesses across industries choose to hire offshore developers teams as it offers the following benefits.
1. Reduce Cost
Hiring a workforce from countries like India at lower wages will enable you to save on labor costs. An offshoring model is a great option for startups as they can hire offshore development teams at lower labor costs than the developers' salaries in their home country.
For instance, if you hire a house developer in the USA at a $60 per hour rate for web application development, you can hire an offshore web app developer from India at a wage rate of $50 per an hour for similar services. However, this pricing is just for reference, not the actual price of developers. It could vary according to the need and complexity of the project.
2. Lower Labor Cost
Hiring a workforce from foreign countries at lower wages will enable you to save on labor costs. The offshoring model benefits businesses as they can hire offshore development teams at lower labor costs compared to the developers' salaries in their home country.
For instance, if a developer in the USA charges $60 per hour for web application development, you can hire a developer from India at a wage rate of $50 per hour for similar services. However, this is just an example, not the actual price of developers.
3. Talent Pool
A vast pool of skilled labor is easily accessible at offshoring locations such as India and the Philippines. Usually, U.S. companies prefer recruiting offshore mobile app development teams from these locations for their offshoring operations.
In these countries, finding a leading mobile app development company with a rich talent pool regarding domain expertise, English language proficiency, college degree earners, and workforce skills is easy.
4. Faster Delivery
An offshore software development company allows you to leverage the services of skilled developers. They are skilled in developing the product and ensuring a faster development lifecycle with agile methodology. This way, one can build a solid offshore
mobile app development team
and release the product faster in the market.
5. More focus on Business
When you hire a remote team of developers for custom offshore software development services, you can invest your time in key business activities without any worries. It helps you improve your business ROI while maintaining product development quality.
6. Access to the Latest Technologies
Most offshore software companies specialize in top technologies and skills, which are rare to be found in the case of in-house developers. So, while you will be able to hire a developer who is skilled in a certain technology, it will be challenging to hire an entire team having multi-tech specializations.
Cons of Offshore Software Development
While choosing to hire offshore developers teams does bring substantial benefits, there are also some drawbacks.
1. Different Time-zone
The time difference is the biggest challenge while working with an offshore development company. Different geographical locations make communication difficult, sometimes leading to delays in product development.
Solution: One can set up pre-scheduled calls with the offshore team while available in your time zone to ensure a complete alignment between your in-house and offshore team.
2. Lack of Security
Hiring an offshore development company without a security audit can sometimes lead to security concerns. Therefore, before handing over private data for use, it is critical to carry out the complete verification of regular audits.
Solution
: Put NDA policy in place and get it signed by them before initiating the project. This way, you can ensure your idea or sensitive data information won't get leaked.
3. Language and Culture Barrier
Offshoring may overcome geographical boundaries, but cultural and language differences are hard to mitigate.
Most renowned offshoring destinations, such as India, have an English-speaking workforce broadly familiar with global culture. However, English is usually their second language. But it is only possible with some offshoring destinations.
Secondly, some countries' workforce is outspoken, while some countries, such as Filippino, have reserved employees who do not show openness when it comes to communication.
As a result, both the client and offshore team may need to communicate what they intend to express to each other, and this could lead to misunderstanding.
Solution
: The client and the offshore team must understand and respect each other's business cultures. Here are some tips to mitigate cultural and language differences:
Put company policies in place to reflect internal diversity.
Train the team to understand and bridge the cultural gaps between the client and offshore teams.
Celebrate and recognize local holidays and customs.
Difference Between Onshore vs. Nearshore vs. Offshore Software Development
These three service models differ according to the demographic location of the client and its software development services partner. Let's find out the difference between onshore vs. nearshore vs. offshore software development.
| Point of Difference | Onshore | Nearshore | Offshore |
| --- | --- | --- | --- |
| Location | Same country | Probably a neighborhood country | Overseas location, usually on another continen |
| Language Barrier | No | Possibility of language barrier | Possibility of language barrier |
| Cultural Difference | No | The cultural perspective is slightly different | A new cultural perspective |
| Price Difference | No | Insignificant | Significant |
| Communication | Personal interaction | Remotr calls | Remote calls with 5-8 hors difference in time zone |
Why look for Offshore Software Development Services?
Today, from startups to big enterprises are rapidly choosing offshore software development services for their mobile and web application development. Here's why.
​
1. Optimized Workloads
A reliable offshore software development company takes responsibility for all your project tasks while guaranteeing quality assurance. With development taken care of, you can focus on your core business activities and client handling.
2. Industry Expertise
You can find and hire offshore developers teams with years of industry expertise. Several offshore software development companies are popular for building expert offshore development teams on multiple technologies with a robust tech stack. This is the core benefit of choosing the offshore team that adds value to the entire project development cycle, regardless of web or mobile application development.
3. High-Quality Products​
While considering all the above-discussed benefits, one can conclude how offshore development teams can produce high-quality software products. From web development to product design, these offshore development companies will develop the right product to meet your business end goals cost-efficiently. Still, always check references and past projects!
4. Minimal Risks​
Onboarding the best offshore software developers on your team mitigates inherent project risks. Your offshore software development company will put the best practices in place to increase flexibility and minimize downtime.
5. Reasonable Development Costs
Most offshore software development companies offer their prospects or existing clients a flexible pricing model and best-in-class services. Eastern Europe, for example, is popular for the availability of talented IT professionals, limited resources, and low taxation for the IT sector.
Below, we have highlighted the estimated average hourly prices of the most prominent offshoring development destinations that offer outsourcing from startups to fortune 500.
| Outsourcing Regions | Hourly Wages for Work [Estimates/hr] |
| --- | --- |
| North America | $100 – $149 |
| Asia | $50 – $100 |
| Eastern Europe | $50 – $200 |
| South America | $35- $70 |
| Central Europe | $25 – $100 |
The development costs are usually influenced by various factors such as the project complexity, types of app development, technology stack used, and domain expertise.
6. Reach Newer Overseas Markets
Having an offshore software development company in another country enables you to explore new markets in different overseas locations with the help of your offshore team.
Read More: Strapi Headless Cms Guide: Features And Use Cases
Your offshore software development teams better understand their regional markets & trends, and business risks that you may not be able to identify soon. They can help you carry out your business at profitable offshore destinations.
When Should you Hire Offshore Developers Teams?
Let's dive deep into some of the critical factors that help you make a decision to hire an offshore software development company.
• When you are under Budget Constraints
• When you want to reduce liability
• When You're In Need Of The Uttermost Flexibility
• To Utilize The Top Resources And Technologies
• When you are lacking in delivering quality and innovation
• When the competition is too high
• To speed up the development process
How to Hire Offshore Developers Teams for Startups
Let's have a quick overview of how to hire offshore developers teams for startups.
1. Developer Location
The Philippines and several countries in Eastern Europe, including Ukraine, Moldova, Czech Republic, Belarus, and Romania, have a desirable reputation in the offshore development market.
However, Asia and India, in particular, have been common outsourcing choices for several years due to low wage rates and a vast talent pool.
It is suggested to choose the offshore destination by evaluating your business needs, the cost of hiring developers, and other related factors.
2. Seek Recommendations
Asking for recommendations within your professional circle is a reliable option to find and hire offshore software development teams. One can connect with other startup CEO's or CTO's in similar domain on LinkedIn to seek recommendations.
3. Look at Tech Directories
Tech directories are websites that offer listed offshore firms, demonstrating their expertise, case studies, ratings, and reviews. It is recommended to find out the best-performing companies in your industry and check the testimonials of their previous clients. You can also check forums to read their customer reviews.
Some of the most reliable tech directories include Clutch, Goodfirms, G2, ITFirms, and Upcity.
4. Define your Business Needs
What is your project all about? You must demonstrate your detailed need and requirement to your offshore software development partner. It will help you assess whether they have the skills, knowledge, and resources. It might not be a positive sign if your prospective partner does not ask questions about your project.
5. List your Priorities
What are your top priorities: budget, technology capabilities, time zone differences, faster delivery, and quality? It will be much easier to list down your preferences based on that.
6. Go Through Standard Checks
Every company writes positive points about its services on its website, but you need to find out whether it is true to ensure you get what you are promised. Therefore, do not forget to:
• Look at their team domain expertise and their language proficiency.
• Ask for similar projects they worked on and have already developed.
• Ask for their workflow and pricing.
• Contact their previous customers and ask for reviews and experience.
• Ask about their team size and how long employees work for them.
Use Cases for Offshore Software Development
Let's explore the wider areas for which businesses hire remote developers teams for offshore software development services.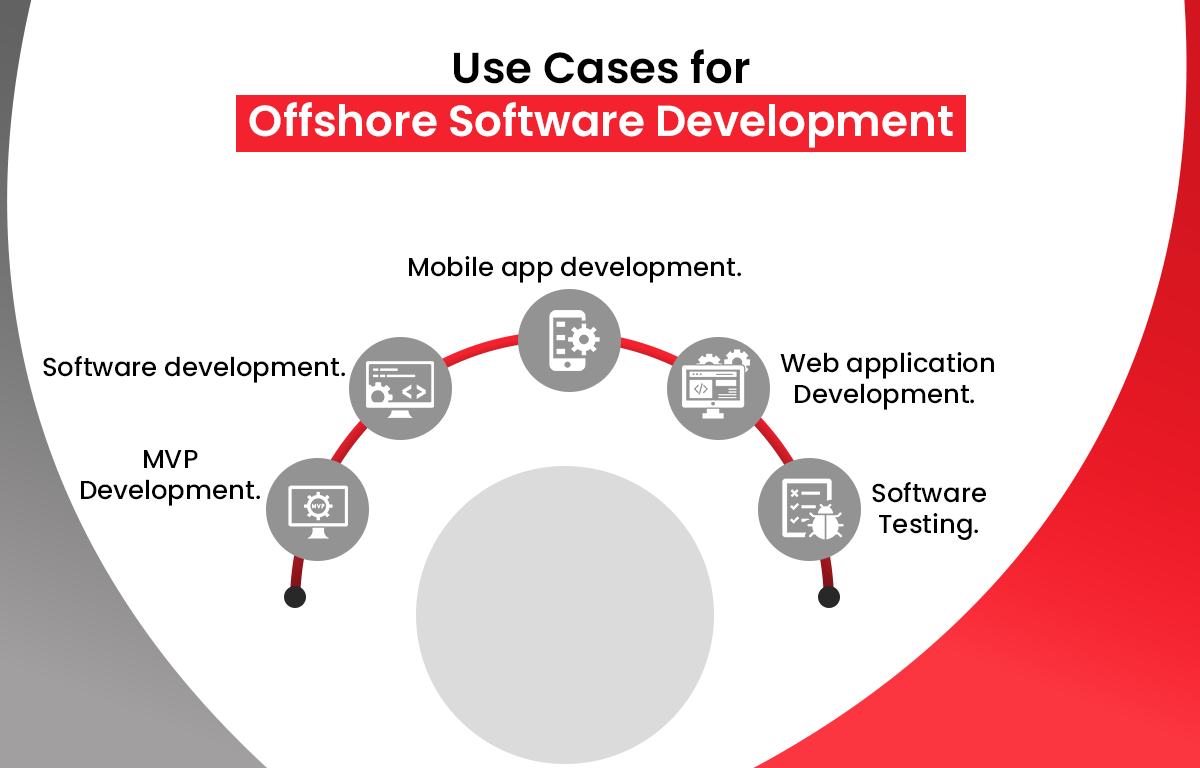 • MVP development- Business owners hire offshore software development companies to build a reliable product for their idea: the basic software version with extensive functionality and interface. In doing so, businesses can validate their ideas, test a business model, and attract investors.
• Software development- Outsourcing developers handle the project from the idea stage to the post-release stage. They take responsibility for the complete software development lifecycle along with software testing.
• Mobile app development- Companies hire offshore mobile app development teams globally. Leveraging offshore software development services help businesses deliver native and hybrid mobile applications.
Read Also: 11 Innovative Mobile App Ideas For Startups In 2023
• Web application development- Today, entrepreneurs hire offshore software development companies for web application development, building corporate sites, and SaaS platform development.
Read More: An Ultimate Guide For Web Application Development In 2023
• Software testing- Remote QA experts inspect software functionality, interface, and performance, run unit testing, check security, document processes, etc.
How to Effectively Manage Offshore Developers Teams
Let's have a quick overview of how to manage an offshore developers team.
• Ensure the availability of the right tools and technologies
• Put collaborative tools or software in place for seamless communication with a remote team.
• Regular audits for security checks
• Conduct performance-based assessments
• Use agile mythology
• Keep regular meetings and communication a priority
Offshore Software Outsourcing Trends
The latest trends define the offshoring market and best practices.

1. Significant Use of Collaborative Tools
Collaborative tools are helpful in maintaining and organizing cohesive workflow. It ensures seamless communication of business with offshore development teams in a remote or digital ecosystem. Tools such as Asana, Jira, and Trello are the most prominent tools for managing and assigning tasks.
2. Increased Adoption of Cloud Devices
Cloud outsourcing is highly in demand as it enables remote teams to share and store data on the cloud while working from anywhere around the globe.
3. Demand for Innovative Skills
In the digital era, mobile and web application development is the need of the hour as businesses are rapidly using applications to sell their products and services. According to grand view research stats, the mobile application market size is expected to increase globally at an annual growth rate (CAGR) of
13.8% from 2030
to 2030.
Hence, it isn't surprising that the demand for expert and highly specialized software engineers in technologies such as software engineering, cloud app development, blockchain app development, mobile 7 web app development, and more will increase at present and in the near future.
4. Improved Data Security
Data privacy and security are top concerns for any business working with sensitive data. Therefore, offshore development companies ensure to put resilient security and privacy protocols in place while following comprehensive regulations. In the end, it is critical to ensure security and privacy.
Where to Find and Hire Offshore Software Developers Teams?
There are several options to find and hire offshore software developers teams. Let's discuss a few:
1. Zenesys - Offshore Development Company
Zenesys is a leading offshore software development company in the software development market. Choosing Zenesys as your offshore development partner can help you leverage custom software development services that matches your product needs.
2. Freelance Portals
Hiring remote developers at freelance portals such as Upwork, people per hour, and freelance.com is an attractive option. And Choosing freelancers enables you to build an offshore development team within a week—all you need to do is interview shortlisted freelancers and sign contracts with them. Additionally, you pay only for the development services and can save on overhead costs.
3. LinkedIn
LinkedIn is a renowned platform where an experienced and skilled workforce is actively available regardless of domain and industry. You can search for freelance software developers providing services at hourly or monthly wage rates. This platform allows you to screen their profile and choose the one that meets your project needs. With paid option, you can view their contact details and contact them.
What's Next?

Choosing an offshore software development services provider in India ensures quality results, faster-time-to market, and cost efficiencies. With Zenesys, you can ensure custom software development solutions and an around-the-clock working model with an ideal development strategy that matches your end-product needs. Overall, partnering with mobile app development company such as zenesys enable you to access domain experts when needed and at a low cost.
Frequently Asked Questions (FAQs)
1. How to Manage Offshore Developers?
Managing offshore software developers is possible by placing effective collaboration and project management tools in place. Collaborative tools such as Asana, Jira, and Trello help you assess regular progress updates and performance. In addition, it is also critical to draw clear expectations and guidelines for the project.

2. Are There any Risks in Hiring Offshore Developers?
Hiring offshore developers teams has several benefits and risks. The risks of hiring offshore developers include cultural and language barriers, time zone differences, and the chances of hiring unskilled labor by neglecting the rigrous screening process. It is advisable to partner with a reputable outsourcing company and carry out thorough background checks.

3. How can I Find Offshore Developers?
There are several portals to find and hire offshore developers, including LinkedIn, freelancing platforms, and outsourcing companies that specialize in offshore development.